Why You Should Invest in Hardscaping for Your Home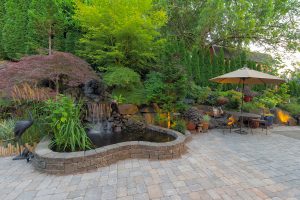 Planting beautiful flowers, keeping a tidy lawn, and painting a fresh coat on the front door are all small ways to increase the curb appeal of your home. But exterior home improvement projects don't stop there. Hardscaping—or the incorporation of non-living elements into the landscape, like stone, brick, and concrete—can be advantageous not only to the property's visual aesthetic but to the functionality as well. Today, let's explore some reasons why you should invest in hardscaping. 
Reasons to Invest in Hardscaping
1. Add Functionality to Your Outdoor Space
At their core, hardscaping projects are designed to increase the functionality of your outdoor areas, making them more accessible and usable. For instance, a patio creates the perfect space for outdoor dining and entertaining guests, while a pathway of pavers carves out a route for you to walk around the gardens or from the pool to the pool shed. 
2. Boost Curb Appeal of Your Property
Outdoor features that serve a function are great—but what's even better is when they look good, too! A well-designed landscape with elements like stone walls and water features can instantly elevate the curb appeal of your property. Whether you're looking to captivate a potential buyer or simply want to impress the neighbors, a hardscaped exterior is visually appealing.  
3. Save Time and Money on Maintenance
Unlike traditional landscaping, hardscaping is quite durable and typically requires minimal maintenance. While plants and flowers demand regular watering, pruning, and care, masonry elements like stone patios, brick pathways, or concrete driveways withstand the test of time with little-to-no effort on your part. The lack of necessary maintenance saves you time and money, and your outdoor space will still look stunning year after year. So, while hardscaping projects are a higher cost upfront for initial construction or installation, it pays off in the long run. 
4. Increase the Market Value of Your Home
Last but certainly not least: one of the most compelling reasons to invest in hardscaping is the potential to significantly increase your home's market value—whether you're looking to sell the house soon or not. A beautifully hardscaped property has a good chance of attracting more potential buyers and being listed at a higher selling price. Prospective homeowners will likely appreciate the appeal of a well-manicured outdoor space, seeing it as an extension of the indoor living area. 
Examples of Valuable Masonry Projects
Now that you understand the many benefits that come with hardscaping your property, let's explore some popular stonework projects:  
Retaining Walls:

These add dimension to your landscape but also serve practical purposes like preventing erosion and creating terraced spaces for planting.

 

Outdoor Kitchens:

One way to totally transform your backyard? A custom-built outdoor kitchen with a grill, countertops, and storage is perfect for hosting gatherings.

 

Fire Pits:

Cozy up your outdoor living area with a fire pit, extending the usability of your space past sundown and into the cooler evening.

 
Think you're ready to invest in hardscaping for your home? Give us a call! Here at Evolve Landscaping, we have more than 20 years of experience providing professional landscaping and masonry services to residents and businesses across Worcester County; we'd love to give you a free estimate!